1. Ride the Sky (2:55)
2. Everybody's Clown (6:12)
6. Baby You're a Liar (3:55)
7. In the Time of Job When Mammon Was a... (4:04)
8. Lucifer's Friend (6:12)
9. Rock 'N' Roll Singer (4:21)
10. Satyr's Dance (3:17)
11. Horla (2:52)
12. Our World Is a Rock 'N' Roll Band (3:20)
13. Alpenrosen (3:53)
Duración: 58:56 (Edición actual con 5 bonos)
- Peter Hecht / organ
- Dieter Horns / bass, vocals
- John Lawton / lead vocal
- Joachim Rietenbach / drums
- Peter Hesslein / guitar, vocals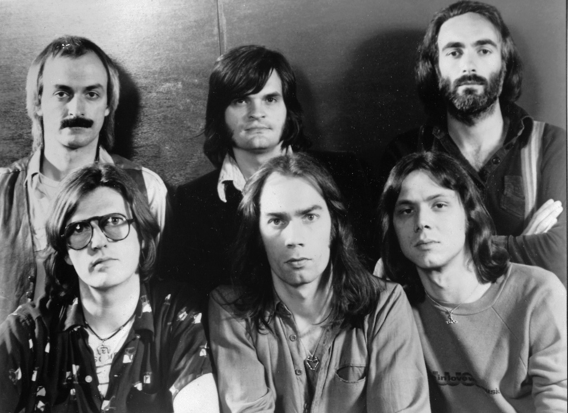 Lucifer's Friend
Lucifer's Friend fueron una banda alemana que tienen varios buenos discos, pero de momento me voy a centrar en los dos que a mi modo de ver resultan más interesantes. Su álbum debut, Lucifer's Friend (1970) y Banquet (1974). Otro buen disco del grupo y de escucha recomendada sería Where the Groupies Killed the Blues (1972).
La encarnación anterior del grupo se remonta a otra banda de Hamburgo con un sonido bastante similar, Asterix (1970). El sonido de Asterix es más rudimentario, menos elaborado que el de Lucifer's Friend. Podría considerarse como el origen del grupo y más por el hecho de compartir vocalista y guitarrista en ambas formaciones.
El primer disco de Lucifer's Friend data de 1970 y tiene mucho en común con otras bandas de la época como Black Sabbath, Deep Purple y Led Zeppelin. Auténtico hard rock sin colorantes ni aditivos. Lo suficiente primigenios para considerarlos originales y no una mera copia de nadie. Un disco necesario en cualquier colección rock.
Lucifer's Friend - Ride in the Sky (1970)
La entrada inicial del disco es magistral, al igual que el resto, una demostración de fuerza y calidad en un grupo que suena igual de bien que la mayoría de las grandes bandas de los primeros 70. Lo que más me gusta de este primer disco, es precisamente lo que comentaba antes, que me resulta directo y auténtico, además de la enorme calidad tanto de Lawton como de Hesslein a la guitarra. La sección rítmica suena compacta y bien engrasada. La guinda final la añade el órgano de Hecht, sus improvisaciones y riffs a dúo con Hesslein. Un sonido que te vuelve a los tiempos mas puros del hard rock.
Álbum Lucifer's Friend (1970)
La banda cambió radicalmente su orientación musical en los discos siguientes, añadiendo muchos componentes progresivos y jazz y dejando en la cuneta el sonido más primigenio de su álbum debut. Si fue para bien o mal depende de los gustos de cada cual.
El primer disco es mucho mejor que el segundo,
Where the Groupies Killed the Blues
(1972), sin embargo
Banquet
(1974), me parece el disco más interesante con diferencia del grupo y también el más difícil de conseguir. Está mejor producido, la banda está al cien por cien y los temas resultan más complejos y elaborados.
El inicio de Spanish Galleon siempre me ha recordado un tanto al tema de Santana
Oye como va,
con una guitarra magistral en la interpretación. La voz de Lawton está en su apogeo, canta con más fuerza y variedad que nunca, puede que mejor aún que en la época con Uriah Heep que vendrá unos años después. Las secciones de viento añaden un aire jazz; estamos ante un disco totalmente diferente del primero y ante un grupo que evoluciona hacia terrenos progresivos, tal vez un poco engañosamente comerciales. Es este un disco que a los amantes del rock progresivo les resultará más variado y atrevido. ¿Mejor que su primer trabajo? Ni mejor, ni peor. Simplemente distinto.
Álbum Banquet (1974)